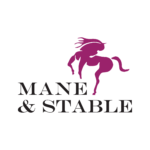 Our product is available for purchase on Amazon.com or Mane & Stable
The product range includes the Wash & Groom Essentials Kit. A 6 piece horse grooming kit with deluxe mesh organizer tote and brush set.
ASIN: B0C7V36PHD SKU: LJ-3SDK-8LOW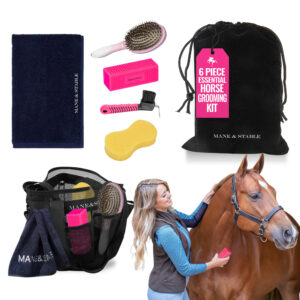 COMING SOON TO MANE & STABLE:
Two luxurious horse grooming brushes to be added to the collection. Currently in production with images available soon!
Handmade horse soft body equine grooming brush. Deluxe professional equine grooming tool with dense soft bristles for a gentle and thorough clean to promote a smooth shiny coat.  Luxuriously finished with a hand strap for easy use and flexible tightly packed bristles ensures the horses comfort and enjoyment while grooming.
EAN: 9369998514120 SKU: M&SBODYSOFT
Handmade deluxe horse stiff body brush. Professional equine grooming tool with flexible Copper bristles designed for a deeper clean to remove dust and dirt at the skin level. Luxuriously finished with a soft hand strap for easy use and dual bristles to clean and promote a healthy glossy coat.
EAN: 9369900039499 SKU: M&SBODYCOPPER